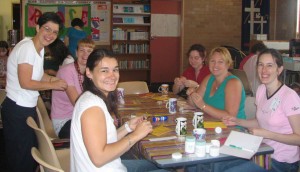 MOPS is for mums of children aged 0-6 years.
MOPS aim is to help and support you in your role as a mother. All of the coordinating team are mothers and know the stresses involved in motherhood! Sometimes some time out from our little ones can help us get things back into perspective and doing a creative activity and participating in the discussions gives some relaxation, a sense of achievement, and support.
Tuggeranong MOPS meets every second Wednesday, from 9.30 to 11.30 am during the school term.
Jess Harvey, mother and journalist writes about her experience with MOPS in the Pulse, the Presbyterian Church magazine, Why I love my MOPS group.
For more info email: or visit mops.org.au