Our Church Camp for 2016 took place at Tathra Beach, from Friday evening, 18 March through to Sunday afternoon, 20 March.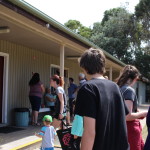 Click on photo for a summary . . .
We were fortunate to hear three talks by Jim Mobbs, minister of Bega Presbyterian Church, New South Wales, over the weekend. The theme was Jesus the Storyteller and Jim spoke on three of Jesus' parables from the book of Luke in the Bible.
If you couldn't make it to the camp or would like to hear them again, below are recordings of the three talks.
First talk: The Foolish Farmer – Luke 12:13-21
Second talk: The Great Banquet – Luke 14:12-24
Third talk: commonly known as The Prodigal Son but a more fitting title would be, A Man with Two Sons – Luke 15:11-32